Regular price
Sale price
Rs. 290.00
Unit price
per
Limited Period Offer
Sold out
The Chartered Accountancy curriculum is known to be tough. Only a fraction of those who begin end up qualifying. But with the right strategies and systems, it can be conquered.


Acing CA is an essential guide that will help any aspiring CA get their methods right, and keep the morale up through testing times. It's a must-have companion for your journey.
In this book, you'll learn:
Who is CA really for?
Routines and strategies for effective preparation for all 3 levels
How to keep yourself motivated throughout the CA journey
How to make the most of your articleship

How to manage studies with articleship
Courses to pursue with CA
About possible career paths and how to pick the right one after CA
The right way to prepare for placements
Myths surrounding CAs and CA careers
Invaluable insights from Mr. TN Manoharan and Mr. Dhiraj Khandelwal
About the Author:


Kushal Lodha secured All India Ranks 6, 5, and 5 across the three levels of CA qualification. He also secured World Rank 3 in ACCA and has cleared all three levels of CFA. He's the founder of KAGR, an EdTech platform for finance students, and a content creator with 400K+ followers across platforms.
Share
View full details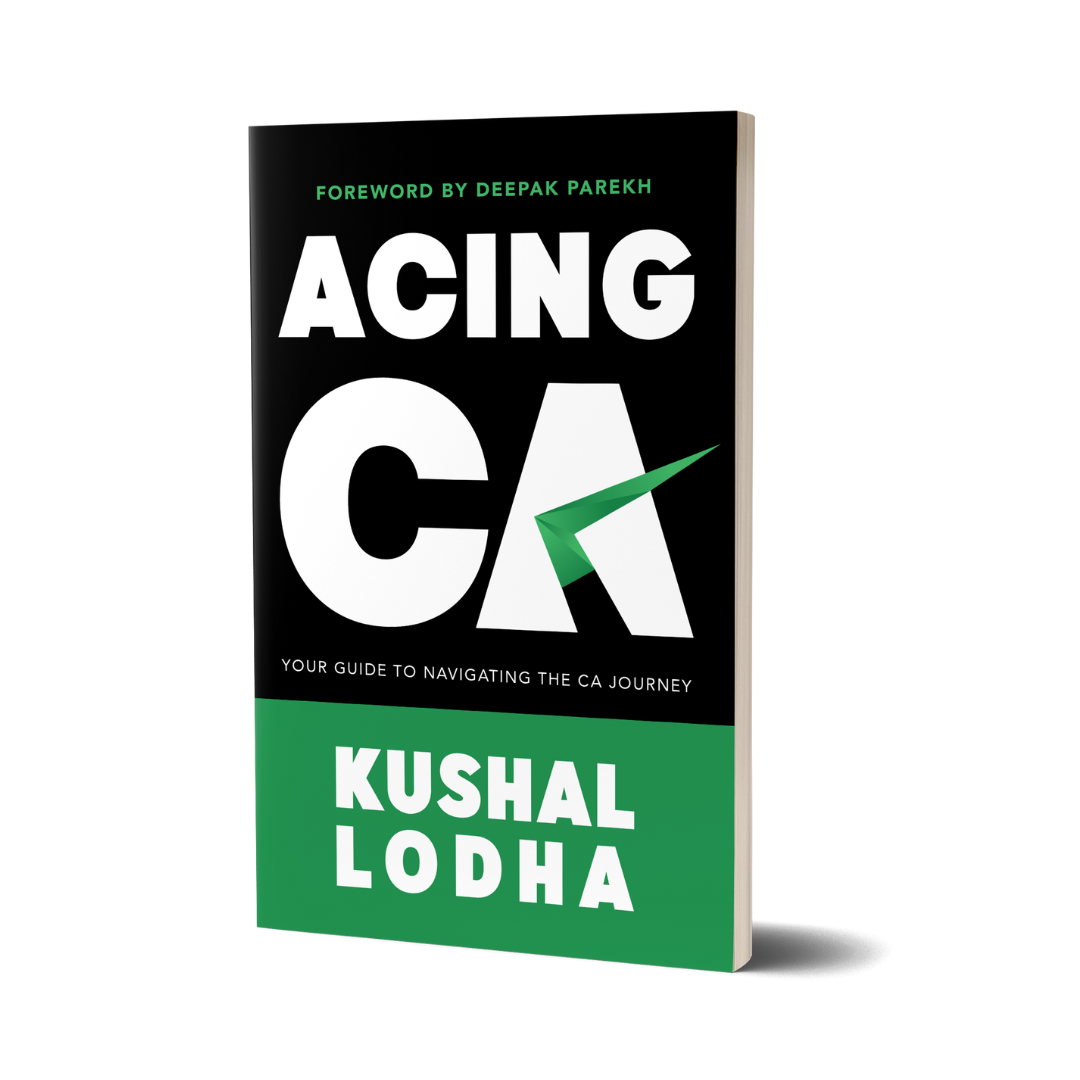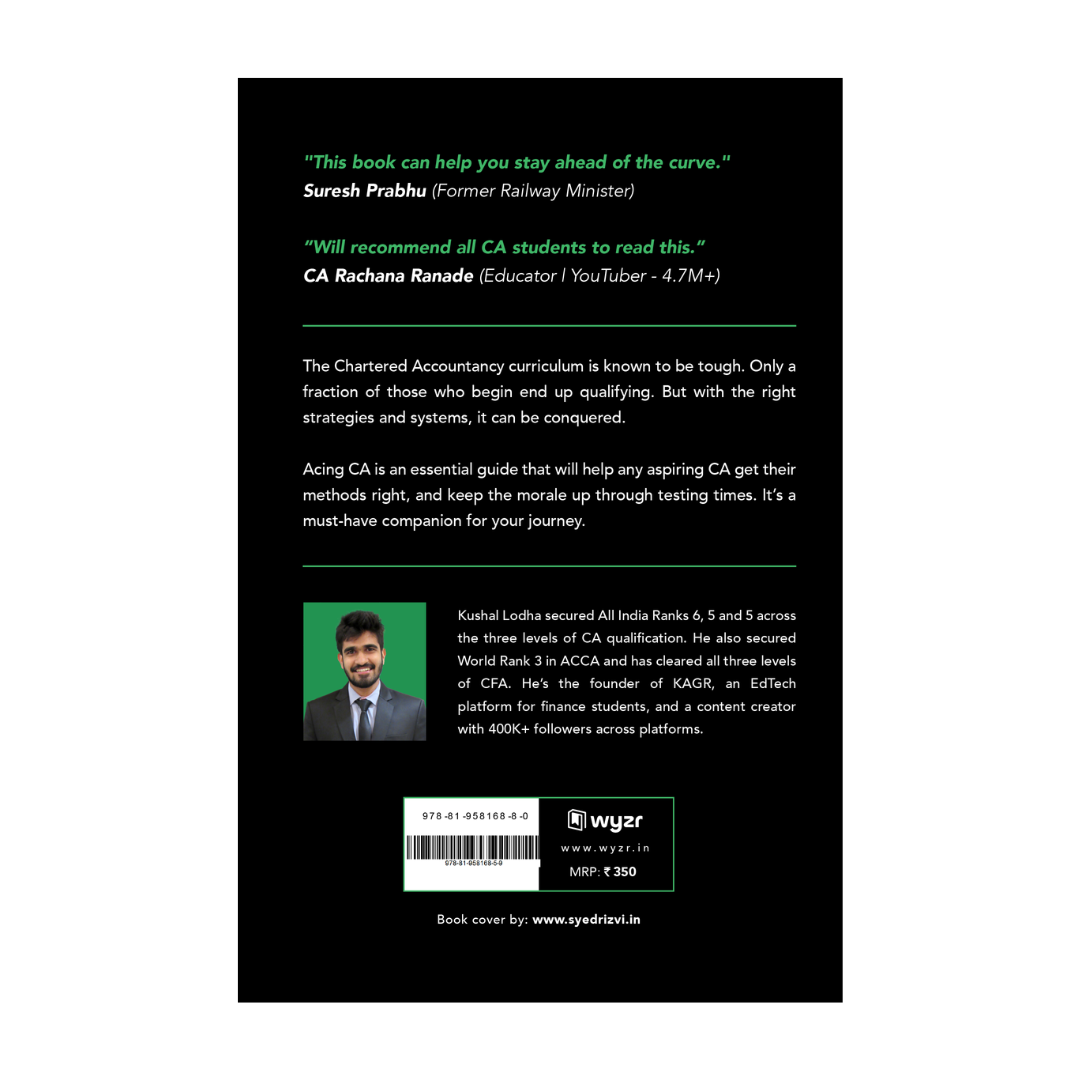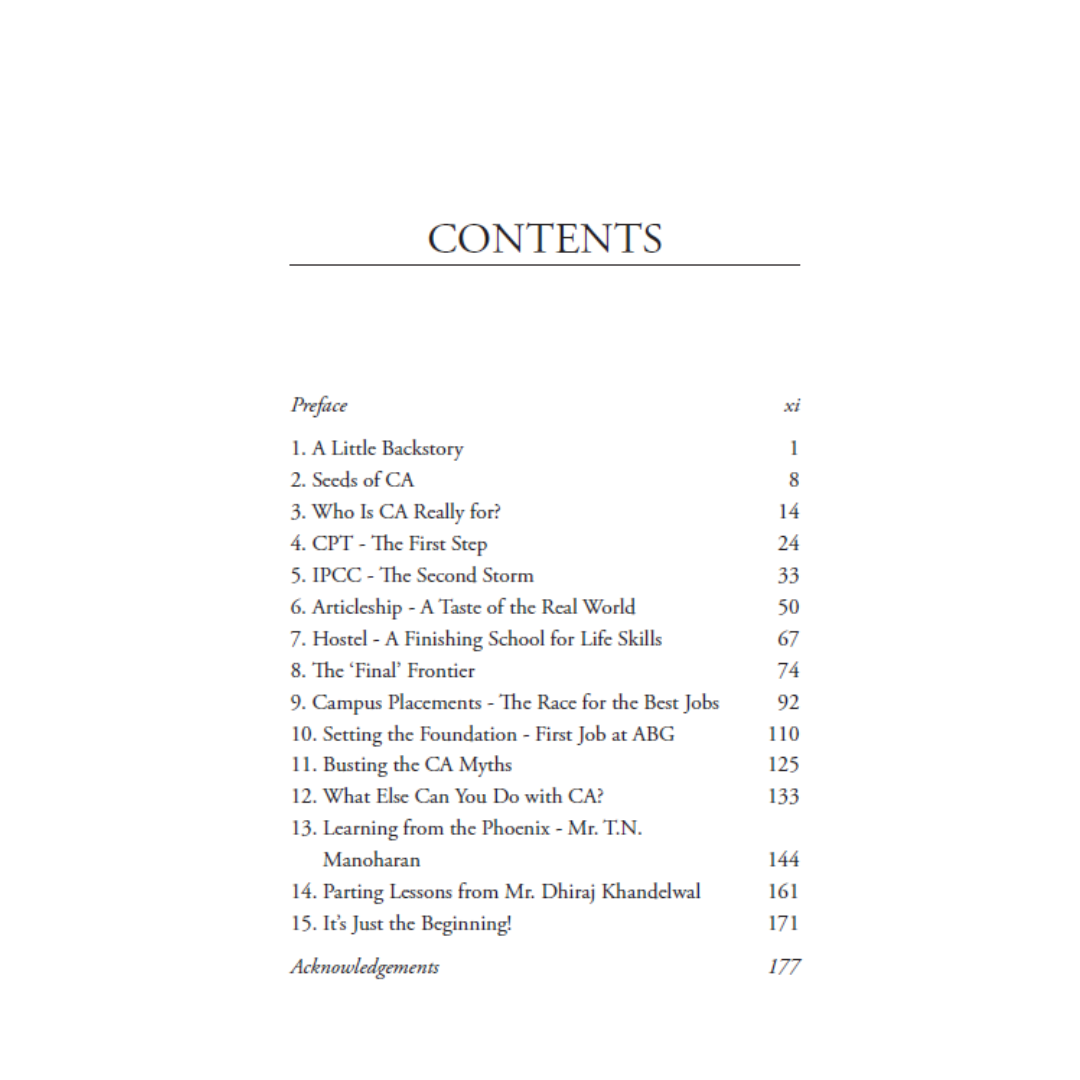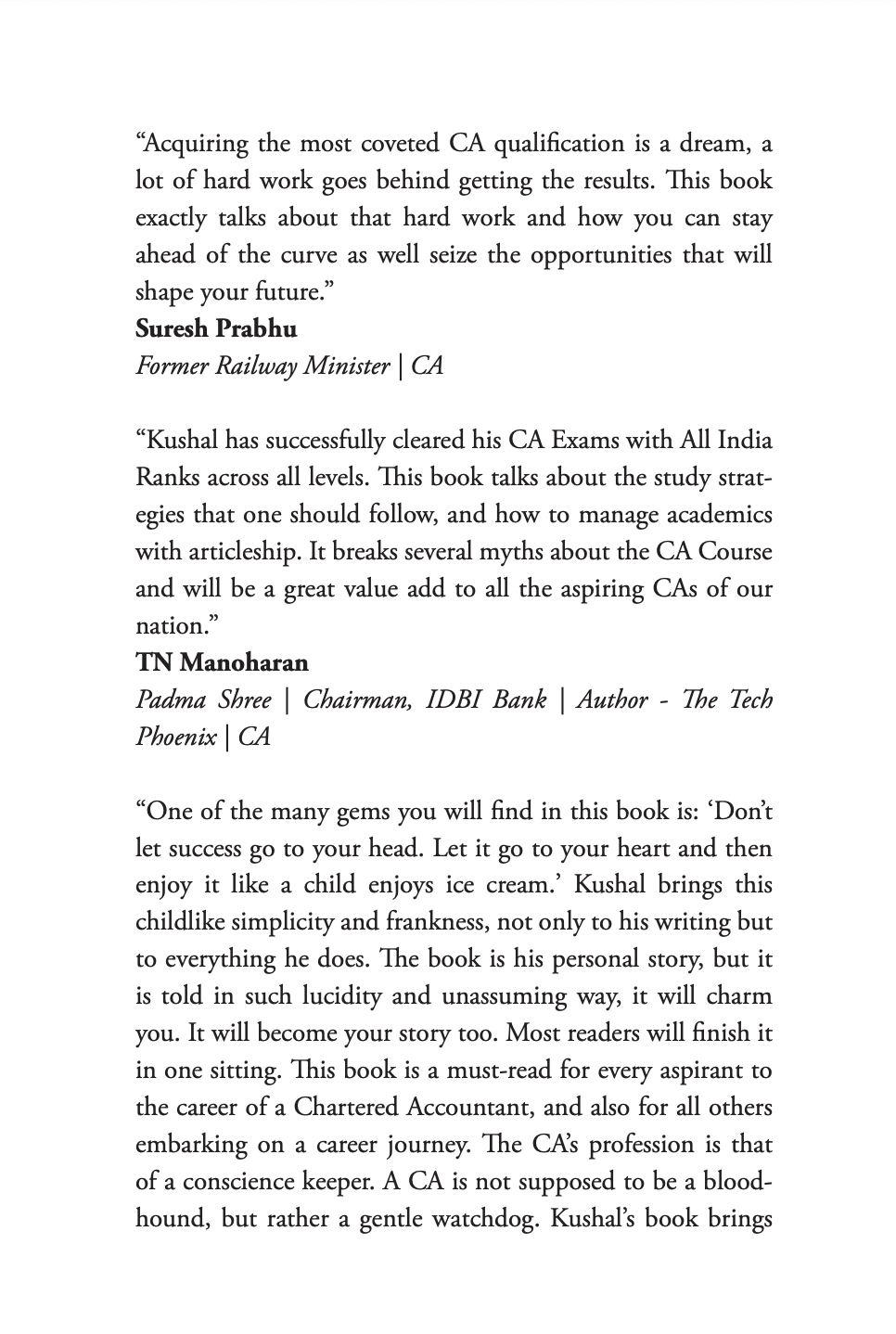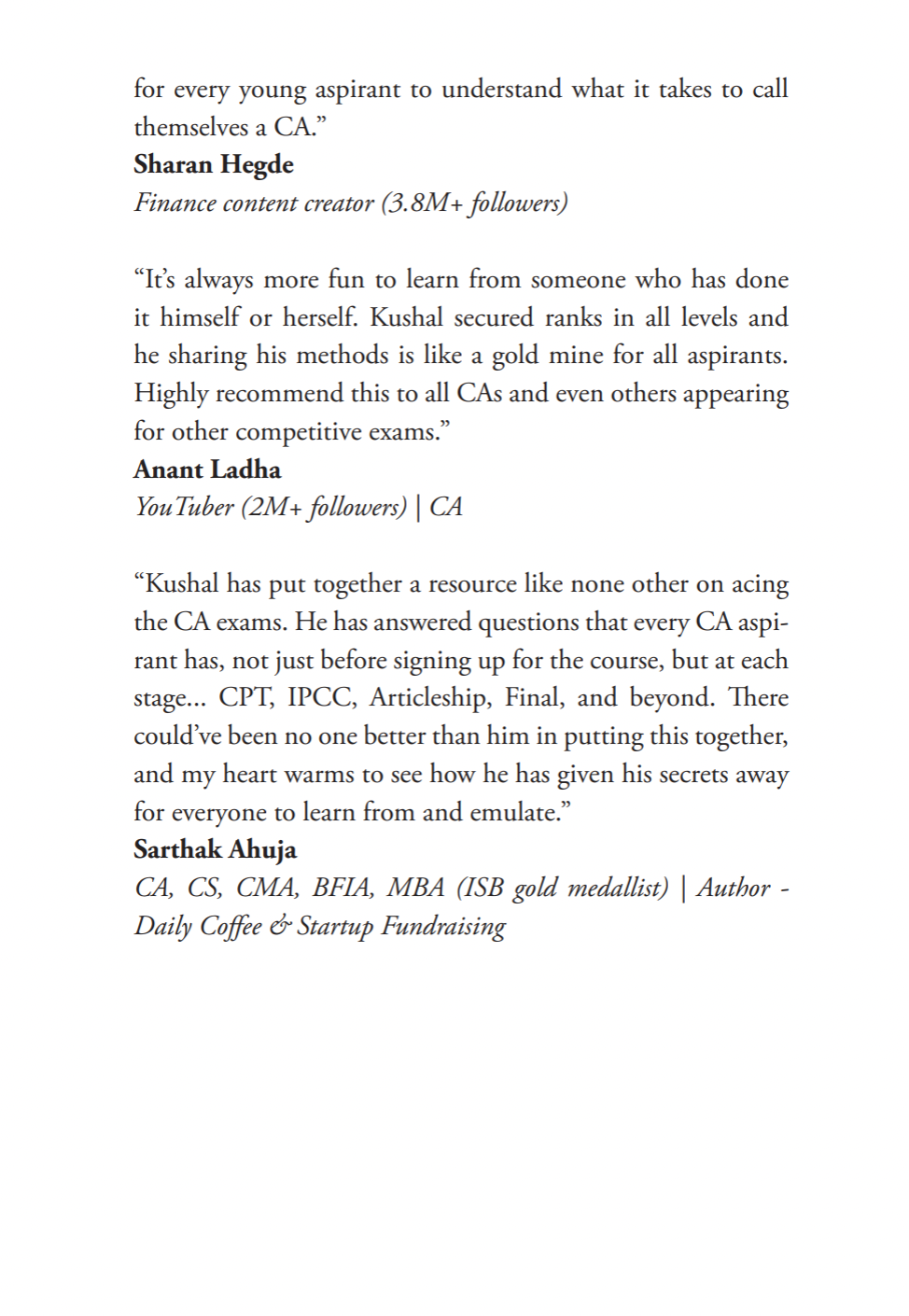 Best book ever
This book is very helpfull for those person who appearing for CA and a CA aspirants.
Kushal has guided many topics that are helpfull as a beginner. Thanks to Kushal As well as WYZR team :)
Outstanding book
"Acing CA - Your Guide to Navigating the CA Journey" is an outstanding book that I highly recommend to anyone pursuing a career as a Chartered Accountant. It offers invaluable lessons, motivation, and guidance to navigate the challenges and achieve success in this demanding profession. Kushal Lodha's expertise and passion shine through in every page, making this book a must-read for anyone on the CA journey.
Good one
The book has been written in good way cause author's thoughts are connecting to Reader
डूबते को तिनके का सहारा
I like this book too much . The only book i finished in 2 sitting . Because i am also a CA student .i am in foundation right now but love the Book.
I like the way you told your story ,strategies , feelings , work experience.
Also the interview with great personalities.
All my doubts regarding CA was cleared after finishing this book.
Acing CA not just the book its the ,guide ,road map,direction for all CA aspirants.
For me Acing CA is "डूबते को तिनके का सहारा".
But there is still a question in my mind .
How much failure is enough to quite CA .
I will do a mail to explain my question .